Dyson asked us to elevate their display & demo booths for FastCo and PetCon 2018 events in New York.
We designed multimedia, interactive installations that embrace the sleek identity of the brand and invited guests to actively engage with the products through playful demo stations.
V10 Backlit Wall - FastCo
​
This display wall is designed as an abstraction of the iconic V10 motor turbin shape.
The wall is composed by several overlapping acrylic sheets: led strips are inserted in between each layer, following the shape of each acrylic panel. The resulting backlit effect highlights the curves of the motor while providing a luminous display for the Dyson products, merging the brand's aesthetic vision with the technical features of the advertised products.
Smoke Photobooth - FastCo
​
We combined an unexpected, analogue photographic filter with an effective product demo experience - the result is a photobooth of the future.
Guests are invited to step into a custom structure, standing behind a double layer clear glass window, onto which we embedded a V10 vacuum motor . A hidden smoke machine injects smoke in between the two clear panels, eventually hiding our guest behind a cloud of white vapor. Visitors are invited to activate the powerful V10 motor to suck the the smoke away, clearing out the window and revealing their portrait, which re-appears behind a mesmerizing vortex of smoke swirls.
Polarized Wall - PentCon
​
Dyson purifiers clear your air from allergens that are invisible to our eyes. But invisible doesn't mean inexistant. We used polarized film technology to surprise guests with in interactive, unexpected installation.
A wide screen, displayed next to a Dyson Pure Cool Purifier, appears to be completely white: an enigmatic caption raises curiosity in our guests. The mystery is solved when brand ambassadors provide our guests with a special pair of polarized glasses, which instantly reveal a hidden animation onto the screen, featuring floating allergens and dust particles. Finally, our ambassador triggers a hidden button: suddenly all the allergens are visually sucked away by the purifier displayed next to the screen.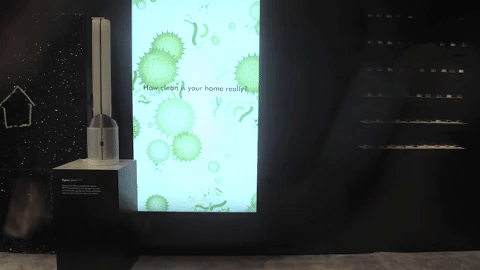 Sequins Photo Moment - PentCon
​
This playful photo-moment prompts our guests to interact with a double color sequins covered wall: when they brush the surface, the sequins flip, revealing the marks drawn by each guest.
Visitors are invited to cancel their marks using a powerful Dyson vacuum, which instantly flips the sequins back to their original position.
Dyson House - PentCon
​
A sleek demo station designed to test Dyson handheld vacuums on various surface materials, conceptualized to reference the challenging narrow corners that used to make vacuuming a nightmare.
Credits
​
Agency: Fake Love
Director: Matt Mento - Dave Bourla
Creative: Sofia Aronov
Art Direction & Design: Sofia Aronov
Production: Michael Hilewitz
Fabbrication: Chemistry Creative
​